The tour is complete as of Thursday October 24th, 2013, started Sunday October 6th, 2013.

Click to checkout all my waypoints and other stops along the way
The table below is a list of waypoints and the daily miles to reach that stop.
| Waypoint | Miles to get there |
| --- | --- |
| Rockmart, GA | 74 |
| Little River Canyon, AL | 72 |
| Guntersville, AL | 56 |
| Bankhead Forest, AL | 80 |
| Kinlock Falls, AL | 32 |
| Red Bay, AL | 67 |
| Tupelo, MS | 62 |
| Okalona, MS | 34 |
| Okalona, MS | 35 |
| Columbus, MS | 70 |
| Columbus, MS | 19 |
| Natchez Trace south of Houston, MS | 76 |
| Jeff Busby Park, MS | 55 |
| Kosciusko, MS | 44 |
| Ratliff Ferry Trading Post | 44 |
| LeFleur's Bluff State Park, MS | 40 |
| LeFleur's Bluff State Park, MS | 15 |
| Forest, MS | 63 |
| Meridian, MS | 68 |
19 days of riding, but I stayed in the same place a couple times. A total of 1,006 bicycle miles.
All of the following information is based on the trip plan, not the actual ride.
Next month (October 2013) I'm planning to leave home on my bicycle and ride the Silver Comet Trail, then head across Alabama, into Mississippi, visit family there, ride the Natchez Trace Parkway some, then pick up the Amtrak train in Meridian and return home. It should be a great time to travel the area. I bet the fall colors will peak during my trip. Temperatures will be falling. I may still have some hot days. But we could easily have a cold snap too, so I'll need both hot and cold weather gear.
This is the tentative plan for my route.


View Mississippi Route in a larger map
(the fat lines are my route in red, blue, green, etc colors so I can distinguish the legs of the trip)
There are several promising nature stops along the way, some of which I've never visited. I'll pick up the Silver Comet Trail some 20 miles from home. If you don't know about this wonderful ride check out the post I made in June for my overnight camping there. I'm excited about not having to turn around when I get close to Alabama this time around. I've got three weeks to explore and I just can't wait.
I'll probably camp somewhere around Rockmart or Cedartown. I need to play it by ear. I don't have time to really train for the ride. My commuting lifestyle keeps me in generally good condition. But I might not be up for long days on the bicycle right at first. So I'm not setting arbitrary goals – I'll ride till I get tired and then camp.
I've always wanted to ride the Silver Comet and then the Chief Ladiga Trail that it meets at the Alabama state line. But I don't think this is the right trip for that journey because that trail heads south to Anniston and that's not on the track I want to follow. That puts me in an area where the natural line goes thru places like Birmingham. Uggh. Not good bicycle riding or nature. What I've seen of northern Alabama is just better, albeit hillier too. I want to explore this part of the state more.
But with that in mind I'm going to leave the Silver Comet somewhere around Cedartown, Ga. and head north. I'll cross into Alabama and over Weiss Lake and then ride to Little River Canyon. I can't say that I've ever been there before, even though it's not far from home. It looks like a beautiful place on the web. And natural waters are always a big hit with me.
On another trip perhaps, with warmer weather, this looks like a great way to enjoy the river. But it may be a little cool for that this time around.
I originally wanted to go up the west side of the canyon since I saw scenic highway 176 goes thru there and tracks very close to the river. But the preserve web site says bicycles are not recommended there, with the road being two lanes, very twisty, no shoulder. It may be busy this time of year. So I'm going to forgo that experience and go up the east side on highway 273 and then 35.
I'll go up the west side of the canyon, and at the top I'll reach Little River Falls (that's what really attracted me to this site). If I'm lucky I'll find a place to camp somewhere nearby. I love waterfalls so much.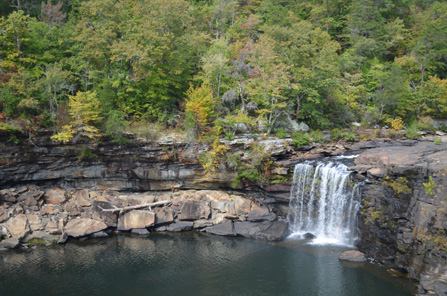 Hopefully it won't be too hilly in this area. They say Alabama is real flat, but I know better when it comes to the northern side. As long as I don't fill myself with preconceived notions about my pace I'll probably deal with it just fine. I'm my own worst enemy when it comes to pushing myself too hard. I've tried to be pretty conservative in estimating my pace. This is a vacation, not an athletic competition! But I do hope to keep a reasonable pace so I have plenty of time to goof off on the way and visit with my family before returning home.
Leaving the falls, I'll move on to Bucks State Park. This looks like a pretty place with some nice views. Then I'll head south to Guntersville and cross the lake there. My next really interesting stop looks like it will be Bankhead National Forest. I already know this is a really beautiful area. And I was pleased to discover that Bankhead has a pretty liberal camping policy that includes dispersed camping. Not that I won't stay at an established campground, but I like it that I can also just find a place when I'm tired and plop down there and make camp.
Bankhead also includes the Sipsey Wilderness Area, which is a very special place with lots of waterfalls and other pretty views.

When I leave Bankhead National Forest my next planned stop will be Dismals Canyon. To quote their web page, "A 1.5 mile hiking trail on the canyon floor follows the stream through skyreaching boulders, past thundering waterfalls, into a secret world of mossy-green and pearl gray filled with ferns and giant trees.". OK. I can live with that! This might be a camping spot too.
I've been around in circles about what to do next. I could ride towards Columbus Missisippi, where I was born. Or I could first ride to Okalona Missisippi. I'm currently leaning towards Okalona. I went there a lot as a young boy. My grandfather, Robert Stovall Sr., had a large farm there which is still owned by my family. Hopefully I'll get to visit the farm and see the old lodge there. It was a favorite summer destination in my youth, including horseback riding, swimming, playing in the hay barn, and other fun. It will be nice catching up with Aunt Hazel and the rest of the family there.
From Okalona I'll probably ride south to Columbus, where I was born and spent a lot of time as a young boy. My father lived there until his death in 1986. I have a lot of memories of this area. It will be fun to visit Lee Park which is just down the hill from Great Aunt Nell's old house where I visited many times. That's where I watched the Apollo 11 moon landing at the age of nine. And it's where I learned to ride a bicycle!
I might get to visit with my Aunt Nelly and family in Columbus and Uncle Nelson in Caledonia.
Leaving Columbus I plan to head north again and then pick up the Natchez Trace Parkway. It seems odd to me now, that I've never been on the parkway before, as much time as I spent in the area when I was younger. But I'll change that now. While I'd like to ride the whole parkway, I won't have time. I'm planning to get on the parkway about 10 miles west of Okalona and then ride down to Jackson.
I hear the traffic is bad as you get close to Jackson, and I'm likely to get off the parkway a little north of the city and start over towards Meridian. When I get there I'll go to the Amtrak station. There's baggage service at this station and I expect to be able to buy a bicycle box. I'll pack my bicycle and rearrange my gear so I can travel by train back home to Atlanta. I do love long train rides.
Checking Out The Terrain
I remain nervous about making this trip thru the mountains. I've had a lot of mountain riding experience over the years, but not on a loaded touring bike. My mountain riding has been on a lightweight road bike. So I've used some web tools to check for really long steep climbs. One I've been playing with is this topo map. It is more informative (when you zoom in) than a google terrain map is. I still wish I had something that would graph the inclines so I could better visualize the climbs.
This is a topo map zoomed in to show elevation detail for a small part of the ride.

View topo map of the whole route
A yet-better way to look at steep grades is to use the "elevation profile" view in Google Earth. This apparently requires the full Google Earth client app instead of the Earth view in Google Maps. It is easy to get the Google Maps route into Google Earth by exporting KML from the Google Maps window.
Using that method I can get an elevation view in the bottom of the Google Earth window. If I see a steep section I can click and drag in the elevation view to highlight that section of the map. Then tilt the view and such to get a perspective on it.
Overall it looks like the toughest parts of this ride are in the first half of crossing Alabama. Steep climbs are there but they're sporadic. If I give myself time to recover I should be just fine and enjoy the experience (the experience of cresting the hill that is).
That's all for now. This web page will get updated as I plan the trip and make more notes about stops I'd like to make along the way.